Villa Agapi
A beautiful 10 years old villa, renewed in 2019, was built in a Spanish style with a wooden combination, furnished and one of the invested villas in Lefkada island.
Located on the west side of the island, in Athani village in the heart of olive groves, overlooking Egremni beach with a stunning panoramic view.
The villa has 2 floors:
Entrance floor- Living room with double sofa bed, compact and fully equipped kitchen with electric cooker, baking oven, steam, and refrigerator, equipped with essential products such as sugar, tea, coffee, water bottles, olive oil, spices, wine bottle and new coffee machine with capsules.
Also on this floor is a double bedroom, a large chest of drawers, toilet, and bathroom.
Second floor- A very spacious bedroom with a double bed, small dressers on either side, a large chest of drawers for storage and wardrobe for the guests comfort.
In addition, an en-suite bathroom and toilet. 
Each floor has a sun terrace with a pergola, equipped with a comfortable seating area.
The villa offers perfect hospitality for guests looking for a peaceful, calm and private vacation in a natural and pastoral environment, on an area of natural woods and centuries-old olive groves overlooking the Ionian sea. 
The villa has an infinity pool, equipped with a salt-based (non-chlorine) water filtration engine, huge parasols, sunbeds, comfortable seating chairs and separate barbecue area for lunch/dinner.
The villa is equipped with cold/hot air conditioning system throughout its spaces,  doors and windows net, WIFI, LCD TV, hairdryer, first aid kit, and fire extinguisher. 
The maintenance team is available and will welcome the guests at the beginning and end of their vacation, and provide them information and recommendations of close activities, restaurants, beaches, etc. 
The villa is not suitable for parties or events, and smoking is only allowed in the garden areas.
Swimming in the pool is recommended for children with an adult escort. 
Lefkada
Making a dream come true
We arrived in Lefkada with the fulfillment of a dream we had all years: to own a villa on a magical Greek island.

Indeed, our dream came true, and in 2018 we discovered the villa with the help of our friends from GRE company, who located the house for us and helped with the purchase process.

What drew us to the stunning Athani and surrounding area is the uniqueness of the place, which still retains its authenticity with the centuries-old olive groves and the humble villages around it.
It is still original Greece with its mountains and green landscapes with the calm turquoise sea, which you will not find anywhere else.

We wanted the house to symbolize for us and for our guests the thing that is missing so much in our world these days- love. So we called the house "Villa Agapi", which means in Greek love house.
Ahuva (beloved) was also the name of Revital's mother R.I.P, that the oil pictures she painted adorn the walls of the house, and perpetuate her in a memory of love.

We hope that the guest of the house will be comfortable and pleasant, and with the breathtaking views around they will enjoy a love-filled stay in our home.

Testimonials
Guest review
Dimitris Tsaknakis, stayed in August 2019
Villa Agapi is absolutely stunning. Modern, stylish interior, totally spotless. The host can't do enough for you! You only need to ask... Aircondition was brilliant - so quiet and cooled the rooms in no time. We holidayed here the first week in August with 2 children (aged 5&7). The pool was super, with perfect views onto the Ionian Sea! We did hire a car from the airport which is a must in the Summer months, to see the whole of the island. There are many traditional tavernas which are dotted around! We did eat breakfast and most lunches in the villa and ate out at the tavernas for dinner (recommend Greco Restaurant and Lefkatas (cape of) which are both in Athani which is a few mins drive away.
You could walk however with 2 hot children we chose not too!
Definitely recommend the villa and island! We will be back...
Neil Drinkwater, stayed in August 2019
Amazing place! The pool is also beautiful. A glass of wine in the pool overlooking the sea and sunset ... Something amazing. There was nothing missing in Villa. We will definitely visit again in the future.
We recommend and best regards :)
Wojtek Falarz, stayed in July
We had a fantastic time at this lovely home. What a perfect location. We loved the magnificent pool, equipped kitchen, lovely decoration, reliable hot water, fast internet, air conditioning and gorgeous landscaping. Super happy! Thank you!
Oded Ran, Oded and his family stayed in August 2019
The most beautiful beaches in Europe
10 minutes drive from the villa
PORTO KATSIKI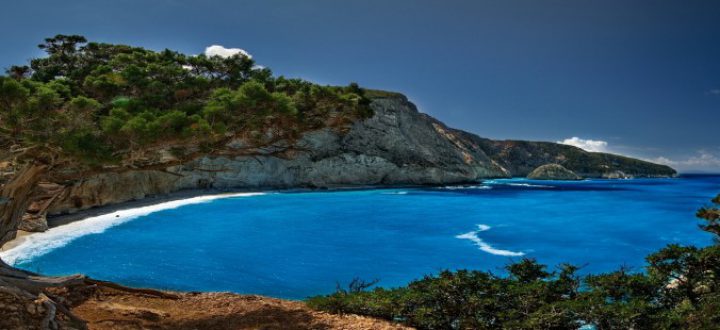 Porto= port, Katsiki= Goat.
So named for being the beach which all the goats of the island came, before paving a road for locals and tourists.
This beach won first place in the beautiful beaches competition in Greece, thanks to the clear turquoise water and the white sand.
A part of the beach is shady by breathtaking natural cliffs. It is one of the most beautiful beaches in Europe and the whole world.
Porto Katsiki is located near "Athani" village, there is a road leading from the village directly to a specious parking. In the parking area you can enjoy a number of kiosks offering food and drinks. The descent to the beach is by stairs.
"EGREMNI"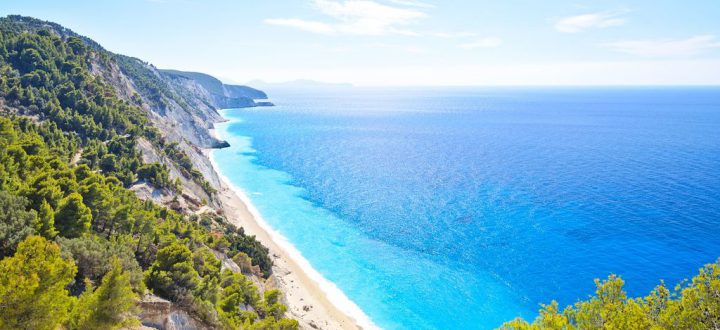 A stunning virgin beach on Lefkada Island.
It is one of the famous beaches in Lefkada and the whole Greece.
A beautiful long beach, surrounded by natural cliffs and crystal water.
This beach has an access road, with spacious parking for 5 euros.
Before descending to the beach, you can enjoy a kiosk at the entrance to the stairs, which offers food, drink and seating area.
About 354 steps will lead you to the beach.
Lefkada Island
Recommended Places